You're all set up, you picked the perfect sportswear, you warmed up, nothing is missing here. 
Can you feel the adrenaline pumping through your veins? 
1,2,3, GO! 
WAIT for a second! 
Take a look at your sports socks. are they really a wise choice? 
As an athlete, every detail matters and your socks are on the top of that! Wondering why?
REASONS WHY THE ACCURATE SELECTION FOR YOUR SPORTS SOCKS MATTERS A LOT!!
Worry about the damages of working out for a long time?
SOCKS WHISPERER: Athletic socks features are made specially to enable the damage-free long training periods!
Want to recover faster and head to the game AGAIN?
SOCKS WHISPERER: the right sports socks are these that help you reduce muscle soreness and damage.
Wish for socks that help you boost your movement flexibility?
SOCKS WHISPERER: Athletic socks manufacturers are extremely focused on tailoring parts of the socks that maximize the movement of different parts of your foot.
Want to feel at ease within your own skin?
SOCKS WHISPERER: The right sports socks help you cope with your activity and transfer sweat from the skin.
So whether you're into different kinds of sports or you're the upcoming socks business owner, or even planning to launch new sports socks product lines, STICK AROUND! Moody Socks Factory brought to you this blog to offer the INTEGRATED answer from a socks manufacturer perspective on the tricky question:
WHAT ARE THE FEATURES ADDED TO TURN USUAL SOCKS INTO SPORTS SOCKS THAT ENABLE YOU TO ROCK THE PLAYGROUND!
We have found that when athletes use usual socks types for sports, they suffer a lot! While all the luck befriends those who dig deeper into sports socks types and supported their feet with the suitable athletic socks!
Forget about the sweaty socks or your feet getting bunched because of choosing the wrong socks. Forget about getting sidelined because of feet problems! We have done our studies, we added our experience in socks manufacturing, and we ended up with the following bundle of the most suitable socks features for sports training!
Arch support:
Compressed socks with arch support to guard your feet from Flat Feet, Plantar Fasciitis or any other feet harm caused by socks that are not supported with the right technology. That's why Moody Socks Factory always empowers sports socks with the arch support technology that surrounds your feet with the needed compression without negatively affecting the blood flow. Instead, the arch support boosts blood circulation by allowing the increase in blood flow entering each foot. Congratulations, No arch pain ever again.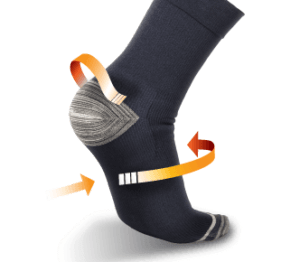 Heel protection: 
Durable yet comfy! This is why the heel protection technology is included in Moody Socks Factory's sports training line. It protects your heels and ankles from bedsores, pressure ulcers, and other uncomfortable downsides of doing sports training while wearing the wrong kind of socks. This technology is durable so it can effectively do the protection part, yet comfy enough to provide the required amount of breathability that blocks moisture.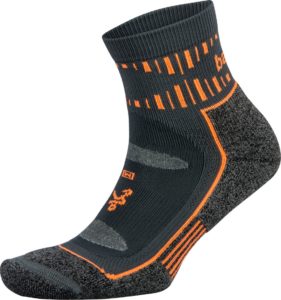 Upper Mesh and Hydrophilic Silicon:
Let it breathe! This is the motto of Moody Socks Factory's special sweat-wicking socks. During the design process of these socks, we paid special attention to the breathability aspect of athletes' feet, through combining the upper mesh technology with the hydrophilic silicon material. With supporting our socks with such mixture, athletes will be free of the smell and harms of sweaty feet. By wearing such a pair of athletics' socks, your feet will be in comfort, have access to some fresh air, and be free of the harmfulness of excessive sweating.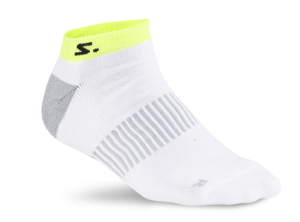 Cushioned:
Having blisters is what we hate the most. It always feels awesome to free your feet after a day full of champions and have your feet all clean and blister-free! The cushion technology embedded in Moody Socks Factory's sports training line is up to the mission! In our cushioned athletic socks, the socks layers are doubled, accordingly preventing frictions and getting rid of extra moisture.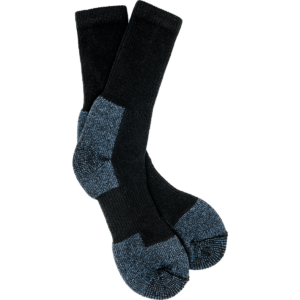 Aside from the blisters issue, we also offer you terry options! Terry is a socks manufacturing technology involving the socks' thickness through knitting extra loops. The thickness is determined according to the sport you practice.
– "Full Terry/ Half Terry" option: This level of thickness is suitable if your sport practices include back and forth running, such as soccer and basketball.
– "No terry" option: You can go for the no terry option when your sports practices include wearing snug shoes, such as skiing and hiking.

Stretch-to-fit:
Wearing a sock that is not perfectly fit can cause foot harms, which is exactly what we aim to prevent. If the socks are not snugly fit, they will cause toe cramping along with extra material folding which consequently causes feet friction along with its side effects. Therefore, suitable size and fit do matter, but what about having sports socks that automatically stretch to fit your foot size and shape, saving you the effort of and hassle of searching for different sizes that will fit you?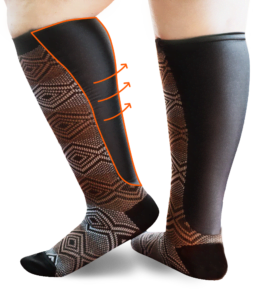 You're now acquainted with all the features we use to form the perfect sports training socks for you. Now, to the next question:
WHICH SOCKS MATERIAL AND LENGTH TO SELECT FOR WHICH SPORT? 
1- Football Socks:
Minimizing moisture and friction are a priority when it comes to football. That's why the best socks would be composed of a synthetic blend or materials like olefin and nylon. And because the protection of the player's leg is essential, padded high socks are usually needed!
2- Tennis Socks:  
For the lateral quick movement, the breathability and padding of the socks are essential along with wearing socks above the ankles, because sunk socks will allow the shoes to rub the ankles.

3- Volleyball Socks: 
When it comes to volleyball especially, it depends! For example, players who dive are better off with knee-length socks, as opposed to crew or ankle socks. However, It's typical to see an entire team in knee-length socks. 
4- Fencing socks:
Thick socks that are a blend of spandex and acrylic, cotton, or polyester, are perfect for fencing and soccer as well! 
5- Basketball Socks: 
When it comes to basketball, there is a current trend for its players is to layer two socks on top of each other. This could be unnecessary, what matters is to wear synthetic blended socks that will wick away moisture.
6- Weightlifting Socks:
Although weightlifting doesn't require special socks, as you only need socks which do a good job in wicking sweat and provide a normal amount of padding, the crew-length socks could be a great choice as their support helps your ankles.

7- Dance Socks:
Tights or thin socks under your jazz or ballet shoes would always work when it comes to dancing. Yes, most modern dancers dance barefoot, and it's an option to consider. However, half-socks that only cover the areas around their toes, leaving the heels exposed are definitely a better option than slippery regular socks.
8- Biking Socks: 
There is a great amount of heat and pressure created by pushing your feet away from the ground. That's why breathable socks are a must! Many bikers like to wear double-layered socks — the outer layer is thick and retains water, while the thin inner layer wicks moisture away from your foot.
9- Yoga Socks: 
Toe socks are the one when it comes to yoga! Good posture and balance are what matters when you're into yoga. And both the non-stick bottom and regular yoga toe socks help to keep your posture aligned. 
10- Walking Socks:
You're into walking, COOL! When it comes to walking, socks thickness is what you should be looking for. The thicker they are, the fewer blisters you get. You will also need to wear socks featured with arch-support technology around your ankle and toes.  
11- Running Socks:
Usually, you would care about your running sneakers, forgetting all about the socks into it! What's more important than your running shoe, are your running socks. Running socks need to be supported with cushioning to boost your comfort and get rid of moisture bad effect.
12- Automobile Racing Socks:
This is WILD! Choose socks that match that wildness then! Go for calf-high pairs with cuff supported by lycra or spandex. That way you will avoid the sagging of your socks while driving. It's great also to pick pairs with Nomex material, as it's a flame-resistant material.
13- Cheerleading Socks:
Cheerleading is all about looking fabulous while tumbling and jumping. Snagging socks will ruin the whole look, won't it? That's why – just like in automobile racing – calf-high pairs with cuff supported with lycra or spandex are the best option. They need to have cotton in their composition to provide a sense of comfort and flexibility while moving. HAPPY CHEERLEADING!
Are you convinced enough that taking some time to choose the appropriate socks is a true investment in your practice? We are sure you are! 
LUCKY YOU! You now got the ideal guide for understanding sports socks products. You're ready to go ahead and offer it to every athlete craving for the matching accessories and equipment to strengthen their practice efforts, through the perfect socks for the chosen sport.

Striving for more SOCKS articles?
SUBSCRIBE MOODY SOCKS FACTORY'S BLOG NOW!
READY TO MANUFACTURE SOME ATHLETIC SOCKS?
Order Wholesale Athletic SOCKS NOW!