A potential client is strolling in your store. She strides forward with excited and fixed steps towards the socks section. Her eyes quickly roam your newest collection and scan all the patterns. The confusion on her face is clear through her furrowed eyebrows; she obviously can't decide which socks to get is obvious. they're all equally awesome!
Finally, she picks one! She chooses a very detailed sock with a couple of tiny random graphics, color overlays and your brand's logo at the hem of the sock. It's one of your store's best designs! She takes it from the holder and heads to the counter… when something unexpected happened!
The client, after staring for a solid minute at the socks and examining the two pairs from both sides, turns back with evident disapproval, puts the socks back on the holder, and storms out of the store, all in the blink of an eye! You hurry to what's wrong with the pair and …
You're boiling mad!
The colors are not what you wanted them to be and the patterns are unsymmetrical. The design was perfect on screen but full of hidden errors when manufactured. This is a complete and utter mess, a mess that cost you the client and probably more to come…
Where did it go wrong? Is it the designer's fault? Is it the manufacturer's fault?
The answer is both.
HOW CAN YOUR SOCKS DESIGN BE A MAKE-OR-BREAK!
Designing socks is a process full of different options and multiple decisions to make. For the process to be successfully done, you need to understand machine coding, then you can dig deeper into the secrets of successful socks designs. If you don't understand how machines translate your design, or which template to use when designing, you will end up in a similar situation as the above one! WE DON'T WANT THAT TO HAPPEN
Thus, we will walk you through it all. By the end of this article, you will be SURPRISED by how understanding machine coding helps in producing AMAZING designs!
WHAT WE WILL COVER
SOCKS DESIGN PROCESS:
Translating your socks design into pixels.

Choosing the patterns.

Moody Socks Factory's design Template.
SOCKS DESIGN TIPS: DO'S AND DON'TS
Too many colors?

Pantone TCX Colors are your go-to?

Complex logos?

Lots of typing?

Extend your design to the heel and toe?
SOCKS DESIGN PROCESS:
We have categorized socks design into 3 main milestones. Get ready for taking notes because we are starting a tour through each step now!
Translating your socks design into pixels:
The golden rule here is: feed machines with pixels not images. Socks machines translate the design into pixels. This means that the more accurate pixels you use in the design, the better results you get.
"But, how could I determine the pixels needed by the machine?"
The length of your sock is affected by two main factors: Leg size and leg length.
Using Moody Socks Factory's feet size measurement/pixels guide:
Women will be 170 pixels

Men will be 190 pixels

One size fits all will be 180 pixels
As for the leg length, you should determine which length of the following you are going to use. Then you can set the number of pixels accordingly:
Ankle Length Socks:
Yes! What first comes to your mind when reading its name is correct, these socks reach up to your ankles and are more than no show socks.
Crew Length Socks:
The ready-to-go sock for everyday purpose. Thick, ribbed cuffs, and have a height that falls between the range of 6 to 8 inches.
Calf Length Socks:
Good guessing! They cover your calf but hit just below the knee. The favorable option for sports enthusiasts for protection from any potential harm.
Mid-calf Length Socks:
These socks are also known as trouser socks or tall socks. They reach a few inches below the knee and are intended to keep your feet warm.
Further reading: ALL THAT YOU NEED TO KNOW ABOUT SOCK LENGTHS AND TYPES
Using the above measurements, the design height should be 350, 360 and 370 pixels, or the design width should be 168 pixels only.
We have now concluded the artwork dimensions in pixels! – you can thank us later.
Choosing the patterns:
What is a pattern? It can be described as a repeating unit of shape or form, but imagine it as the "spinal nerve" that connects your brain to the rest of your body. Choosing your pattern has its boundaries when it comes to socks manufacturing, like what?
The width of your painting determines needle counts.

The height of your painting depends on its length, according to some of the previously mentioned types, and the size of it.
Choosing the patterns is controlled by whether you will go for knitting, printing or embroidery. Having the latest Italian knitting machines, Moody Socks Factory always empowers you to go for the kitting option. And for that option, it's essential to be aware that every needle type delivers a different design and suits a different audience. As we mentioned before the width of your design is related to the needle counts, for example:
120 needles, 132 needles, 144 needles are usually used to design children's socks.

156 needles, 158 needles are suitable for women and men. 156 needles are the ideal count for fashionable designs.

168 needles, Ideal for patterns related to fashion means that your width should be 168 pixels (in other words, 84 pixels for each side)


180 needles, 200 needles are ideal also for fashioned socks along with business comfort socks.
Socks Design Template:
As for the coloring, a pattern should not exceed five colors.
What you need to do is to provide the Socks' main color, and decide the other colors accordingly.
IMPORTANT HINTS:
Designs must be sent either BMP or PSD formats or done using Photoshop software.

Visualizing where the patterns and colors will appear is a key solution to successful socks designs. That image would greatly help (always provide your design in the FLAT form)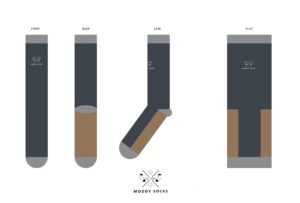 THE TOUR IS OVER AND YOUR SOCKS ARE DONE!
But wait!
You still need to know some FATAL tips and tricks about socks design before submitting the final files to the socks manufacturer. Here they are:
SOCKS DESIGN TIPS: DO'S AND DON'TS
1- Too many colors!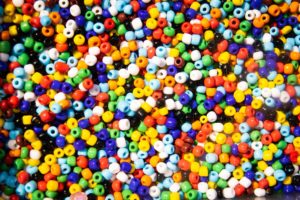 DON'T
I know, you can fall in love with a colorful design with colors sprinkling all over the yarn. Practically, this is not the best idea and let me tell you why; each time you decide to switch to another color in knitting, you have to cut and end off the last color's thread and start a new one. Switching between too many colors makes the socks bulky from the inside and can therefore make them uncomfortable. That's why it's essential that you let your imagination flow within EIGHT colors and no more than FIVE in one horizontal line of the sock.
Creating a pattern such as polka dots, stripes and argyles is usually pretty easy in execution. You just have to put into consideration the size of the pattern when it's worn and stretched.
2- Pantone TCX colors are your go-to.
DO!
Sometimes you pick these perfect shades of lavender and baby blue to match together and give off a soft vibe and then your sock is flat out purple and blue and your vibe is flushed down the toilet! To ensure the accuracy of whatever yarn color shade you pick, make sure that your color references are Pantone TCX colors and you've specific your chosen color codes in your design.

3- Lots of typing!
DON'T
Seriously, NO! You don't have to write your favorite two-sentence quote on your customized socks, we have notebooks for that! Typography should be kept to a minimum because knitted typing tends to be stretched with the socks and therefore it most likely gets distorted. Usually, when your typography is on the footbed of the socks, it's less likely to be stretched out.
4- Complex LOGOS.
DON'T
If your logo has abstract linework, color gradients or color overlays, it will be pretty difficult to attain. There is a restriction on how detailed your design can be. Logos as well can be knitted on the footbed of the sock to avoid shape distortion.
5- Extend your design to the heel and toe.
DON'T
Why? Our dedicated machines go the extra mile and knit both the toes and the heels of the socks to create the socks' inclined-shape. So it's highly advisable not to extend your design to these areas and avoid changing yarn colors and structure. Keep them in solid colors.
NOW YOU ARE READY TO SUBMIT THE PERFECTLY SUITABLE SOCKS DESIGN!
We are super happy to witness your finalization of the socks designs with the help of our detailed road map. It's time to put your business in action and trust on Moody Socks Factory to always help!
Considering the manufacturing of the designs you got? Click here and let's rock it out!