Egypt's Textile Industry Overview:
The Egyptian textile industry goes way back. Truth be told, it dates back to as far as the age of the pharaohs, where Egypt from that point forward, is viewed as the hub for textiles in the Middle East region. Egypt's Ministry of Trade and Industry refers to textiles as one of the primary industries assisting Egypt's trade balance shift in 2017, with exports increasing by around 12% and imports declining by 59%. The country all in all is home to a wide of range services with respect to the industry, spanning the entire production process. Beginning from the agriculture of cotton to the fabrication and creation of yarns, fabrics and ready-made apparel, Egypt is the land of textile and has a complete vertically integrated functioning model.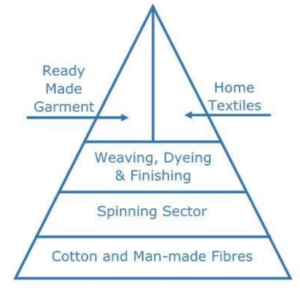 In numerical terms, 25% of the textile industry is centered around textile production, of which 12% is devoted to home textiles, 8% in cotton yarn, and 5% of blended textiles. The public sector is at present dominating the scene with 50% in spinning, 60% in hemming and 60% in weaving. As for the private sector, it owns 90% of the garment side of the industry. The spinning and weaving sector is dominated by large scale industries with a solid impact on the public sector.
In 2017, Tarek Kabil, minister of industry and trade pointed out that the textiles industry contributed to 3% in GDP, with exports amounting to $941 million for the year, contrasted with $765 million in the same period in 2016, according to the Readymade Garments Export Council of Egypt. A 2016 report from HSBC bank pinpoints that there are above 4000 companies operating across Egypt, with 196 in free zones. 
By 2025, Egypt aims to be the center point of the textile industry, through intending to establish a new integrated city for textile industries and to boost the sector with EGP 12 million. The plan also includes setting up four new factories, modernizing old gear and machinery in existing factories and providing training and mentorship for workers. The government plans to quadruple textile and garment exports by 2025. 
Doing Business in Egypt
The question yet remains why one would choose to produce in Egypt over another country. The comprehensive answer lies in several variables. For one, the government runs various training programs so as to ceaselessly update the ranges of abilities and skill sets of the employees. The size of Egypt's population empowers it to have a strong work power and diverse labor force, close to 18 million, which makes it an excellent source of productive yet inexpensive labor combining semi-skilled, skilled and highly qualified employees. Egypt has become widely known for being labor cost competitive, expressing the lowest textile total cost of labor, which is considered an open door for all countries seeking to import.  
Over and above that, Egypt's state is constructing policy initiatives to boost the local textiles industry further. In July 2017, a two-year protocol with the UN Industrial Development Organization and the Italian Agency for Development Cooperation was created to increase the added value of Egyptian cotton- including capacity building training for 400 cotton farmers, workers and students at 15 textile companies. In addition, a national wide strategy for textiles, spinning and ready-made clothing was established. 
Another critical advantage of Egypt is the location of the country geographically wise. The location on the map facilitates fast and easy-going exports to other countries on different continents such as Asia, Africa, and Europe. Egypt's location has made it a natural pivot for trade routers; westbound along the coast of North Africa, northwest to Europe, upper east to the Levant, south along the Nile to Africa and southeast to the Indian Ocean and the Far East. This is, of course, notwithstanding it being home to the most significant oceanic passage in the world, the Suez Canal, where more than 10% of the world's trade passes through. At the moment, Egypt is furnished with 15 commercial ports facilitating its exports. The industry has for a long time been flexible and adaptable in terms of production quantities as well as lead times. A huge client base originating from both Europe and America are already being served from Egypt, building up practically 90% of Egypt's apparel exports. 
What further gives the Egyptian textile industry an edge is also the in-house-availability of the raw material of Egyptian cotton, and consequently the capacity to produce top-notch items made of 100% Egyptian cotton for worldwide demand. This incorporates sportswear, fashion wear, clothing, suits, socks, infant wear, bed, bath and table linens, kitchen adornments, and that's only the tip of the iceberg. 
Last but not least, Egypt's free-trade agreements are a major incentive for production in Egypt. A free trade area is a region encompassing a trade bloc whose member countries have signed a free trade agreement, involving collaboration between countries to reduce or diminish trade barriers, import quotas and tariffs, and to increase trade of goods and services with one another. Egypt is a part of a number of regional and global trade agreements and initiatives. 
Free Trade Agreements
EUROMED – EU-Egypt 
The EU-Egypt Association agreement has been intact since 2004, creating a free-trade area and commerce region between the EU and Egypt by evacuating tariffs and duties on industrial products and making agricultural products simpler to exchange.  The agreement has a focal point of expanding trade between the two regions by reducing customs duties fee on trade bit by bit, decreasing yearly until becoming totally dispensed for certain products. EU-Egypt trade has more than doubled from €11.8 billion in 2004 to €27.9 billion in 2017. The EU, as of 2017, is Egypt's second-biggest export destination, preceded by the US.

QIZ –Egypt
Egypt has been exerting significant efforts to open its economy through various transformations and for that reason, it laid the basis for a free trade agreement in the future by focusing on each part of modernizing its economy. Egypt-U.S. trade operates within two initiatives to increase Egypt's exports to the U.S. The first is the U.S. Generalized System of Preferences (GSP), a preferential trade treatment program where explicitly specified items are eligible for duty-free entry to the U.S. under specific criteria. The second is the Qualifying Industrial Zones (QIZs), a one-way free trade agreement that allows Egyptian components of manufactured goods from designated industrial zones to enter the U.S. duty-free at a tariff rate of zero (the Greater Cairo Zone, the Alexandria Zone, the Suez Canal Zone, and the Central Delta Zone). The big chunk of Egypt's exports to the U.S. continues to be textiles and apparel, which made up over 60% of the total of Egypt's export basket and was valued at USD 1 billion in 2018. The US remains the most popular export destination for Egyptian textiles, according to the General Organization for Export and Import Control.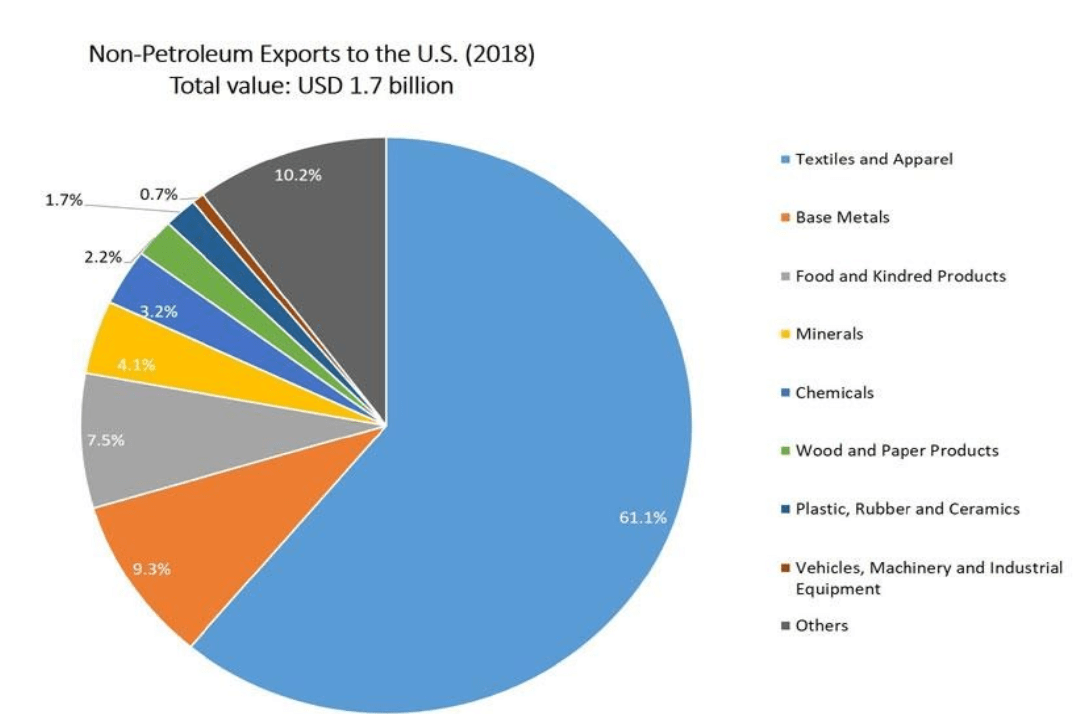 Egypt – Turkey 
The free trade agreement between Egypt and Turkey was executed in 2007 for a transitional period of twelve years, encompassing evacuating obstacles and restrictions on trade merchandise, creating economic relations between the two parties by increasing mutual trade, and providing fair competition in trade between the two sides. The agreement increased the Turkish investors' trust in the Egyptian economy and accordingly most businessmen direct their investments to joint ventures in Egypt to take advantage of the agreement. Egyptian exports of industrial goods to Turkey are exempted from all custom duties and other fees and taxes upon the entry. 
COMESA- Egypt (African Countries)
The Common Market for Eastern and Southern Africa (COMESA) is the biggest regional economic organization in Africa, encompassing 21 member states and a population of around 390 million. COMESA has a free trade area, including Burundi, Comoros, Congo, Dijibouti, Egypt, Eritrea, Ethiopia, Kenya, Libya, Tunisia,Madagascar, Malawi, Mauritius, Rwanda, Seychelles, Sudan, Swaziland, Uganda, Zambia and Zimbabwe. The COMESA gives African nations the open door for cheaper products yet more profit as the products are not subject to duty upon import. Egypt has removed 100% of tariffs and custom duties to COMESA member states over the last ten years.
PAFTA/GAFTA – Egypt  (Arab Countries) 
Pan Arab Free Trade Agreement (PAFTA)  or Greater Arab Free Trade Agreement (GAFTA) was signed by 18 members of the Arab League in 1981, intending to encourage and develop trade among Arab States. All members consented to completely eliminate all non-tariff barriers including administrative, monetary, financial and technical barriers and to reduce tariffs annually for ten years, until reaching a free trade zone in 2005. 
EFTA – Egypt 
The European Free Trade Association (EFTA) member states, including Iceland, Liechtenstein, Norway and Switzerland entered into a free trade agreement with Egypt in 2007 so as to support bilateral trade between Egypt and EFTA states through the liberalization of trade in industrial and processed agricultural goods. On that note, Egyptian exports of industrial products are liberalized (dropping all customs duties and taxes) and Egyptian customs tariffs on industrial imports from the EFTA States will be gradually reduced until January 2020 when custom duties on all industrial products will be completely diminished. 
Agadir – Egypt
The Agadir Free Trade Agreement was articulated in 2006 to set up a facilitated free trade area between Jordan, Morocco and Tunisia. The declaration enhanced trade between Egypt and the countries; all the industrial and agriculture products are exempted from the entire tariff and the non-tariff measures. It is open to further membership by all Arab countries that are members of the Arab league and PAFTA and linked to the EU through an association agreement or free trade agreement. In March 2017, Lebanon and Palestine also consented to the Agadir agreement.
MERCOSUR – Egypt 
Referred to as the Common Market of the South, MERCOSUR is a preferential free trade agreement signed by Egypt in 2017 which permits preferential privileges for the Egyptian exports to enter the Latin American markets (Agrentina, Brazil, Paraguary and Uruguay), while lesseningthe cost of Egyptian imports from Latin America countries. The objective of this agreement is to cut tariffs by more than 90% between Egypt and the MERCOSUR countries and cancel customs duties on agricultural goods along with finding solutions to the issues of the rules of origin. 
Summary of Current Trade Agreements and Partnerships 
*Source: Euromed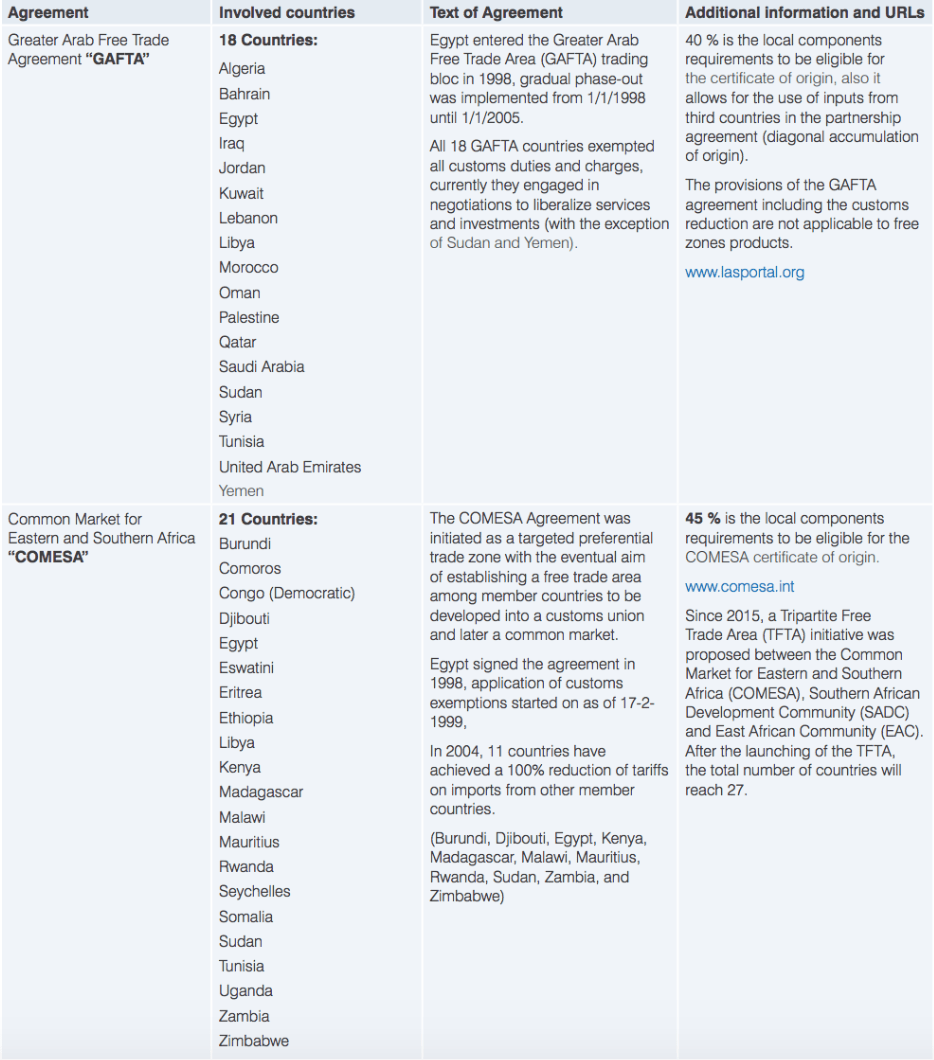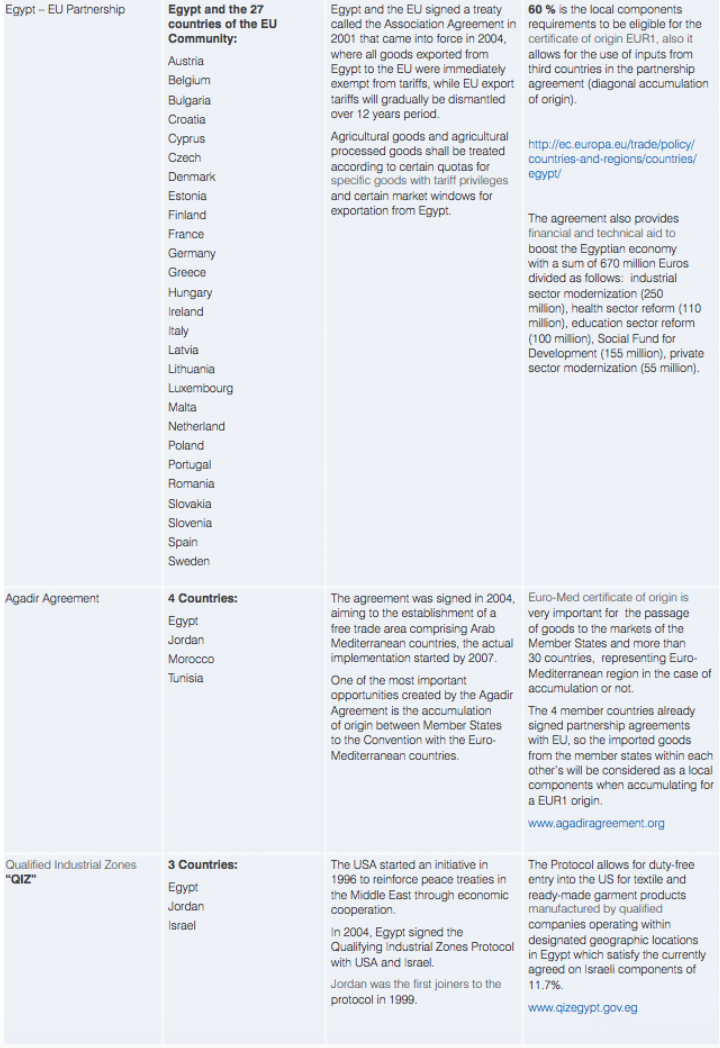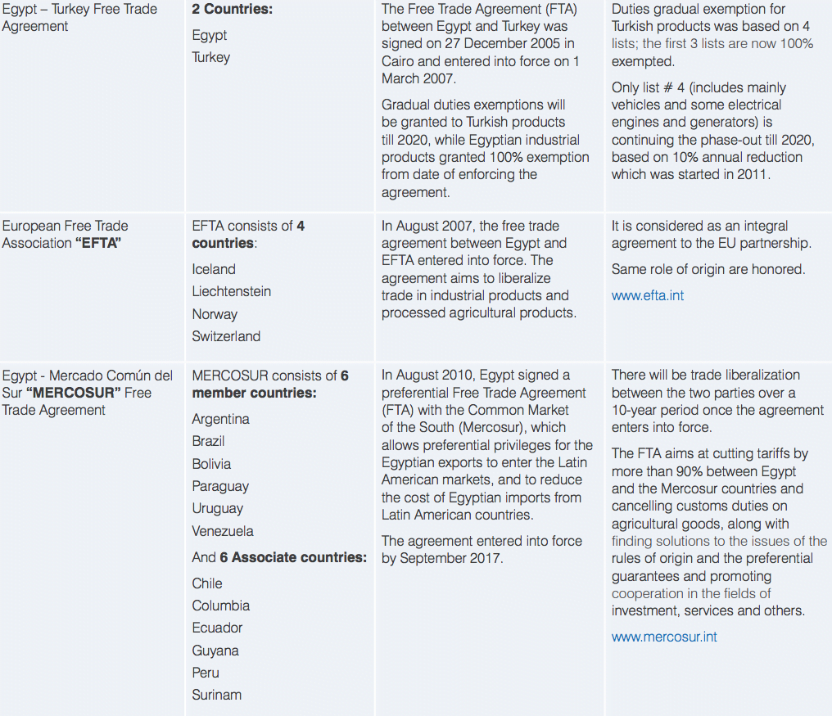 About Moody Socks Factory
Having painted the full picture of the textile industry in Egypt and the regulations surrounding exporting from the country, at this point the potential of the country is evident, particularly with the endeavors being applied to boosting the textile industry in specific. 
To take a fast depiction of the socks industry on a worldwide scale, revenue in the socks segment amounted to $45,442 million in 2019. The market is confronting exponential growth and is expected to grow annually by 4.2% over the upcoming 4 years. The importance of socks is unlikely to diminish- footwear will always be worn over socks! Socks also fill the scope of needs running from casual, medical, sports, formal, and many more.  Nowadays, they have even become indicators of how fashionable one is.
Consolidating the socks industry trends, Egypt's favorable circumstances in production and labor, and the many unhindered free trade agreements it has to offer, it becomes a no-brainer to import from Egypt, in fact, it turns into an easy decision to import from Egypt. Fortunately, at Moody Socks Factory, we can produce a wide range of socks extending from the medical to the crazy fun designs! We have hundreds of choices to accommodate your every need.
Moody Socks Factory has been in the market since 1982 and is as of now one of the largest private label socks manufacturers in Egypt. In terms of socks composition, we assure you that we produce 100% cotton socks with the magical touch of lycra yarns following an exceptionally unique and thorough socks production process. We also accommodate wholesale socks needs.
What makes us stand out are our top-notch Italian manufacturing machines and our workers who have been with us for as far as we remember.  Those two elements mixed together to enable us to convey the best quality in the market, abiding by ISO standards and benchmarks. Our edge is that we export around the globe and provide a private label service option, with the fastest production periods! 
Whether women, men, kids, athletic, or more, we produce all kinds of socks with the most competitive prices in the market! A portion of our customers (or business partners as we like to call them) are Activ, Misura, OR, Platisox, and many more. We serve not only mega clients but also startups. Get in touch with us and be our next business partner.